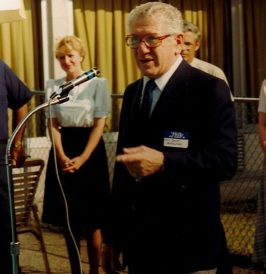 In 1962, the country was changing. The newly-developed interstate highway system enabled Americans to travel like never before, while suburbs were springing up near major metropolitan centers. Our founder Sam S. Schahet, a business visionary and an early Holiday Inn franchisee, saw the incredible opportunities for commercial real estate. And so Sam S. Schahet & Company was born to meet society's changing needs.

Mr. Schahet envisioned a company that managed the development, construction, day-to-day operations, and long-term growth of wholly owned hotels and shopping centers. In 1968, Gary Schahet joined the firm, focusing on hotel development and management. Our portfolio of hotels have continued to grow and prosper, providing value to stakeholders, partners, associates, and our community.
We continue to promote the values and mindset that only a family-operated business can. We emphasize a work culture that puts our associates first. In fact, many choose to make Schahet Hotels the company where they grow and develop their careers for the long run, becoming respected leaders within their industry. We believe that their success leads to happy guests, which results in higher returns for our partners.

Today we are known as Schahet Hotels, an Indianapolis-based hotel management and development company that owns and operates a portfolio of ten highly-respected, branded hotels in Greater Indianapolis, IN and Schenectady, NY.